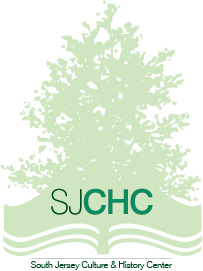 In my last entry (which was rather a rant), I commented that my part of New Jersey has been slow to develop an identity, slow to achieve recognition, possibly lacking in self/civic awareness. I'm pleased to announce that this is changing! We are now blessed with a fine academic journal, produced by the South Jersey Heritage and Culture Center at Stockton University.
Sojourn describes itself as a collaborative effort. The presiding genius is Dr. Thomas Kinsella, Professor of British Literature at Stockton University, who supervises an editing internship program for Literature and History majors. Papers are solicited from local historians and other authors. (Academic credentials are not required.) Students edit and format the work. The result is impressively professional. A wealth of maps, portrait reproductions and photographs (both historic and contemporary) make for a high level of visual appeal.
The most recent issue is themed around the American Revolution. Fourteen articles cover aspects of that conflict. I was particularly interested in "When Mad Anthony Came to South Jersey: Civilian Experience during the American Revolution" by retired Stockton University Professor Claude Epstein. He discusses how the military actions in South Jersey stressed and distressed a population that was relatively poor and dispersed. He describes the Revolution in New Jersey as "more of a local civil war with multiple sides." Not the simple narrative of valiant patriots battling evil Tories that some of us were taught in school!
I checked Sojourn's "Call for Articles" to consider if I might want to contribute. I've lived here 40+ years, which makes me an old timer. Unfortunately, there's no humor category! I plan to offer my article "Sex clubs, convenience stores and 'The Wawa Way'" (see blog post dated July 9, 2014). Think I can talk them into it?? I could probably manage to add a few footnotes, if necessary.
Copies of Sojourn are available in the bookstore at Stockton University's Campus Center, on Amazon.com and at a few local outlets. It would make a nice gift for anyone interested in local history, or having some connection to Stockton University.